Smoke Signals
As an Aboriginal person reviewing the movie I was moved by the combination of comedy, humour, drama, and what I found to be a teaching or moral.
by Phil L'Hirondelle
Seeing that 70% of our Native population is under 25, I found it very appropriate the two lead actors, Adam Beach who plays Victor Joseph, and Evan Adams who plays Thomas Builds-the-Fire, are appealing to the 20 something crowd.
There was a good mixture of drama and comedy, the two faces we associate with entertainment. Gary Farmer plays a great support role. If you like this movie you should ask your local video store for Pow Wow Highway starring Gary Farmer and A. Martinez.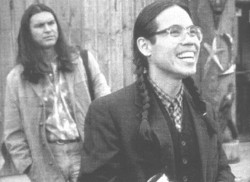 Photo: Jane Sabella
Evan Adams plays what us Natives might term as the coyote role (the trickster). The trickster tricks us into looking at ourselves. Adams plays a kind of Indian nerd with a whiney voice: "Hey Victor, what about your dad? "Hey Victor, I remember your dad buying me a big stack of pancakes and eggs at Denny's." "Hey Victor ..." constantly not letting Victor come to terms with his hidden demons.
Irene Beddard plays the role of Suzy Song. It was my first time seeing Irene in film. She adds a flavour to the movie of almost sexual tension; you almost expect her to be kissing Victor. She, more than Thomas, helps Victor in his hidden grieving.
Tantoo Cardinal is an old friend of mine. I can see her as a mentor to these up and coming actors. Tantoo plays in a lot of flashback scenes in the movie adding to the foundation itself.
There are bit part actors like (Chief) Leonard George who plays an Indian weatherman. "There's a cloud in the sky...kinda reminds me of that girl from the bar..." Lots of good chuckles from Len.
I don't know the other bit actresses who drive a car that only goes in reverse around the "rez" but they made me laugh. Last, but not least, Adam Beach. He is great in the leading man role. The tension I spoke of earlier, Adam carries this well, a combination of gentleness and rage inherited from an alcoholic father. Great casting.
The director gets **** on my "philometre".
Author: Smoke Signals was written by Sherman Alexie, based on his book The Lone Ranger and Tonto Fistfight in Heaven.
It was refreshing for me to see a movie that does not go into deep stereotyping. I also had a lump in my throat a few times from Adam Beach's torment dealing with death. I'd say there is a lot of realism. Go out and support this made in Canada effort. You won't be disappointed.
Phil L'Hirondelle is Cree/Metis from Alberta. He teaches Native culture.