New Direction
OVER THE LAST TWO YEARS, THE VICTORIA POLICE DEPARTMENT HAS QUIETLY BEEN WORKING WITH LOCAL FIRST NATIONS COMMUNITIES IN AN EFFORT TO BUILD STRONGER RELATIONSHIPS AND MUTUAL UNDERSTANDING AND RESPECT.
The eagle sees truth in all things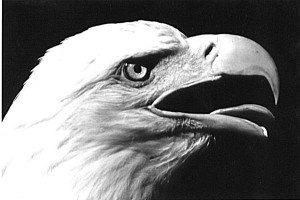 Photo: Gary Green
This initiative includes training for police personnel and an awareness camp that introduced First Nations culture and traditions to police. The final phase, to be held in the summer of 1999, will include a traditional blessing of the Victoria Police Headquarters, a community feast and the creation and blessing of a symbol of the new direction between the two communities. This symbol will take the form of a totem pole which will be carved by local Tsartlip carver Charles Elliot. It will be placed near the front entrance to the Headquarters building on August 7. It will stand as a testimonial to this commitment to greater mutual understanding.
To this end, the Broken Circle audio/visual presentation was held as a fundraiser in November 1998 to raise money toward the completion of this pole. It is our hope that people from every community will participate and work with us to build a future of understanding and respect. Created by Sergeant Gary Green, a keen wildlife photographer, the presentation takes the audience back 200 years, displaying the culture that was present and the effects on that culture of non Native culture.
While this project focuses on the history between First Nations peoples and the non native community to make its point, the entire community will benefit from greater respect and understanding between our communities.
Information supplied by the Victoria Police Department.
---
something to ponder
CAUCASIAN
The term Caucasian appears to have been first conceived by Blumenbach in 1795. In the November, 1994 Discover magazine article, "The Geometer of Race", Stephen Jay Gould says "Blumenbach's definitions cites two reasons for his choice (of the term Caucasian) - the maximal beauty of the people from this small region, and the probability that humans were first created in the area."
To quote Blumenbach directly, "Caucasian variety. I have taken the name of this variety from Mount Caucasus, both because in neighbourhood and especially its southern slope produces the most beautiful race of men, I mean the Georgian; and ... in that region, if anywhere, it seems we ought with the greatest probability to place the original forms of mankind".
Gould: "Blumenback shifted Linnaeus' four race system to his own five race system and changed the "geometry" of human order from geographically based model without explicit ranking to a hierarchy of worth, based upon perceived beauty, fanning out in two directions from a Caucasian ideal."